What Others are Saying
"With this, and a passport, you're on your way."
Interact Sidebar
Features:
Instant bi-directional translation of whatever you say, write or type.
Automatic generation of transcriptions of your conversations.
Multiple playback capabilities including male and female voice output.
Headset compatibility enables hands-free and eyes-free operations.
Continuous repeat mode for use in crowd control situations.
Visualize feature allows you to display and notate pictures, forms and videos, further improving your ability to Interact.
Plus much more...
Compadre:Interact
Instant Translation of Conversations
There are many translation products, but only one that allows you to truly Interact. Say something and its voiced out loud in another language; hear something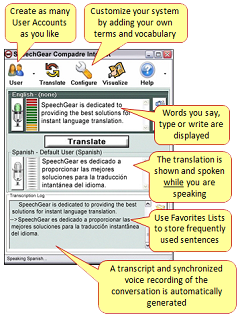 in a foreign language and it's translated and spoken to you in English. No delays or waiting, with Interact the translation is spoken at the same time your are speaking -- no click a button, say something, click another button, and wait for the translation like you have to do with other systems. With Interact, just simply start talking and at the same time you will hear the translation spoken aloud.
Say What You Want to Say
With Compadre:Interact, anything you say is instantly translated. With other voice-based translators you can only use a fixed set of phrases and words. With Interact there are no boundaries, no constraints, no limited number of phrases. You can even easily add your own vocabulary such as acronyms or proper nouns. Instant translation of anything you say, hear, type or write with no limits, that's Compadre:Interact.
A Picture is Worth a Thousand Words
Often communicating is more than simply speaking. With Interact's Visualize feature you can use pictures such as maps and calendars; photographs of people and items of interest; forms for individuals to read or fill out, videos demonstrating a task the individual should perform, or if you're using a tablet PC, simply use Interact's sketchpad feature. With Visualize, you can go beyond simply speaking to truly Interacting.
Hands and Eyes Free Interface
In many situations you need to keep your hands free to perform other tasks – perhaps you are showing a customer how to use a product, helping a student complete an assignment, providing medical care to a patient, a police officer responding to a scene, or working on a manufacturing line. Once again, Interact is your solution. Interact includes a complete hands and eyes free interface where voice-commands and audio cues are all that is needed to instantly translate conversations.
Start Interacting Today
You can order your systems directly through SpeechGear or through one of our many resellers and distributors. SpeechGear carefully qualifies its partners, making sure that they have the same strong commitment to their customers as we do. Please visit our Purchase page for help in configuring and ordering your system, or send us a note and we'll be glad to help.