What Others are Saying
"Here's the most amazing technology I've seen."
Interact-AS Voice Sidebar
Features:
Use anywhere, anytime – while going for a walk, when calling friends on the phone, in meetings, when shopping, and much more.
Simply hold the tablet in one hand and write or tap with the other and whatever you want to say is voiced aloud. No limits, no constraints, say anything you want at anytime.
Powerful yet simple to use features include Keyword Shortcuts, One Tap Favorites Lists, Term Expansions, PhraseBuilding® shortcuts, Sociable Sounds®, play back of pre-recorded audio plus the ability to record your own sounds.
All these features and many more...

Interact-AS Voice System
Giving Voice back to people that have Lost the Ability to Speak
If you have lost the ability to speak, then the Interact-AS Voice Systemâ"¢ is your answer. With the Interact-AS Voice System you can once again talk with a grandson, participate in conference room discussions, have a conversation while you are going for a walk with a friend, and hold telephone conversations with friends and family.
Simple to Use Anytime and Anywhere


Unlike whiteboards or pads of paper where others need to read what you write, the Interact System voices aloud your phrases. Simply hold the tablet in one hand and write with the other and whatever you write is voiced aloud. That's all it takes. Your system also includes Keywords where a single word such as Intro is automatically expanded into a complete sentence; Favorites Lists where with a single tap your commonly used phrases are spoken; Term Expansions where you can enter shortcuts such as having IWL some coffee be voiced as I would like some coffee; PhraseBuilding where you can fill slots to quickly complete sentences, such as I would like to buy some _________.; Sociable Sounds where you can voice sounds like ya, sure, hmm, okay; Pre-recorded Sounds such as Fred Flinstone shouting Yaba Daba Do; and you can Record Your own Sounds and have those be voiced out at any time. In addition to handwriting, Interact Voice also supports typing, a nice option if you are sitting at a desk or a table. No system offers the complete communications that come with Interact-AS Voice.
A Complete System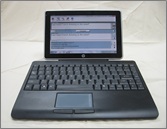 The system starts with Auditory Sciences' award winning Interact-AS Voice software. This is preloaded onto a small yet powerful handheld Windows 7 tablet computer that you can use for everything from surfing the internet to running business applications to taking photos and sharing them with your friends. For "on the go" use a digital pen is included where whatever you write is voiced aloud. For "at a desk" use, we've included a docking station and a wireless keyboard so whatever you type is voiced aloud.
Plus Instant Closed Captioning and Translation of Languages
If you have difficulty following conversations, add the optional closed-captioning module that instantly transcribes whatever people are saying. Plus, if you are traveling overseas add the optional bi-directional language modules and now whatever you write or type is instantly translated and voiced aloud in your choice of dozens of languages.
Start Interacting Today
The Interact-AS Voice System is approved for purchase through medical insurance including Medicare and Medicaid. You can order your Interact-AS Voice System directly through SpeechGear or through one of our many resellers and distributors. Please visit our Purchase page for help in configuring and ordering your system, or send us a note and we'll be glad to help.